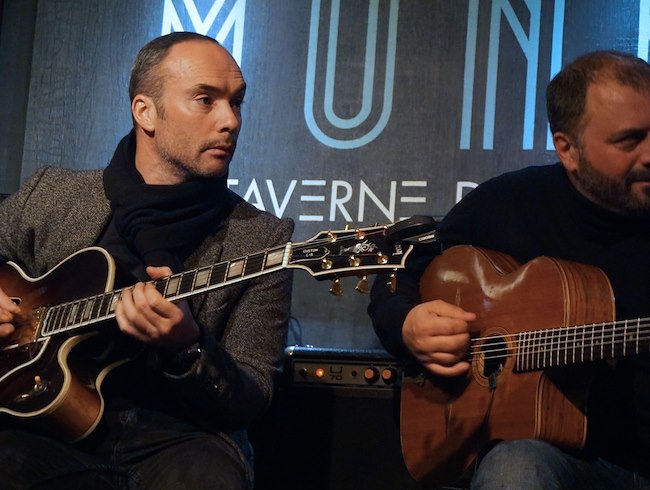 Rocky Gresset Quartet - Thursday 30 November - 8.30pm
As part of the evenings sponsored by Thomas Dutronc

Photography: @ Mathieu Chatelain
Musical style: Jazz Manouche

A fellow musician with Thomas Dutronc, Rocky Gresset is one of the leading figures in the new generation of Gypsy jazz. Proud of his origins and an outstanding representative of a whole musical culture, Rocky has not limited himself to a single musical style, and his open-mindedness has made him one of the most sought-after jazz guitarists today.
Equally at home with Django standards or a more bop repertoire, this concert sees him present a project under his own name, a condensation of his various influences. Surrounded by his usual rhythm section with Mathieu Chatelain on rhythm guitar and Jérémie Arranger on double bass, they will be joined throughout the evening by saxophonist Gilles Barikoski, to form a quartet, a link between swing and bop!

Rocky Gresset (Lead guitar), Gilles Barikoski (Tenor saxophone), Mathieu Chatelain (Rhythm guitar), Jérémie Arranger (Double bass).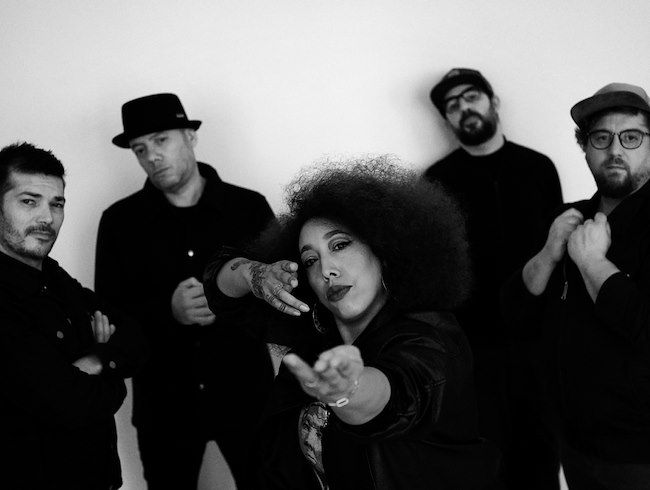 Da Break - Saturday 02 December - 8.30pm
Photography: © Jeff Pachoud
Musical style: Soul Hip-Hop

Imagine warm music dedicated body and soul to groove. Open your eyes and you'll find Da Break, a quintet from Lyon who draw on their fertile love affair with black American music, from vintage soul to hip-hop (West Coast and old-school options), without shying away from R'n'B and funk. Both on their three albums and on stage, the band's songs are driven by Hawa's voice, which combines power and sweetness with stunning ease, and driven by a science of elastic rhythms.
Da Break invites you to join in the dance, and it's impossible to resist!
Best Riddim Eternal Action Krew! This is the mission DA BREAK has set itself for its 3rd album: to deliver another top-quality opus that will remain eternally engraved in the memories of Soul Music. BOOM! Quite simply.
Jennifer "Hawa" Zonou & Rémy Kaprielan, founding members of the group, have decided to close ranks and clarify the content of their music: an aesthetic still rooted in their beloved 90's Soul Hip Hop culture, but also with a sharp ear for today's sounds and worlds, always at the service of a unifying groove and a warm vibe.

Hawa (Vocal), Kamal Mazoui (Bass) , Rémy Kaprielan (Drums), Pierre Vadon (Keyboards), Nicolas Mondon (Guitar).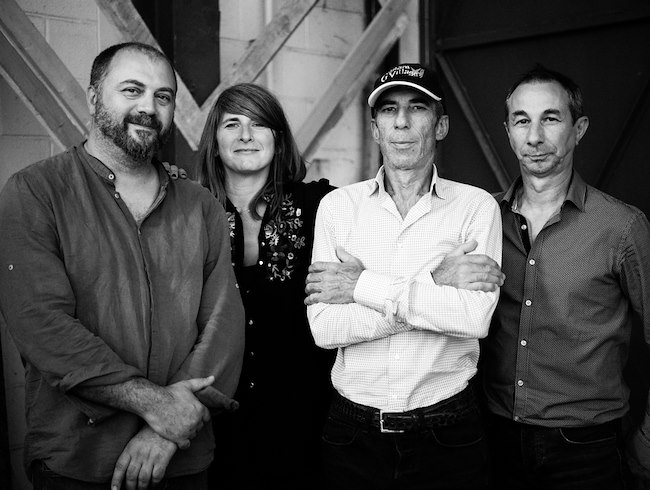 Aurore Voilqué trio feat Angelo Debarre - Thursday 07 December - 8.30pm
Photography: © Emmanuelle Alès
Musical style: Gipsy jazz, Song

After various projects, all very different from one another (Aurore Voilqué Septet, Rhoda Scott, Mayfair Electro Jazz or Orient Occident), violinist and singer Aurore Voilqué is releasing a second album in homage to the Manouche music she loves so much, alongside one of the style's greatest guitarists, Angelo Debarre.
Indeed, in 2018 she released "la valse bohémienne". In 2020, it's "un soir d'été", on which she invites Thomas Dutronc and Sanseverino for one track each.
Surrounded by a relentlessly groovy rhythm section led by Mathieu Chatelain on guitar and Claudius Dupont on double bass, the two soloists can let themselves improvise without hindrance. There's no denying it, they're on the move, and in the traditional way.
It's this genuine gypsy sound that the violinist has gone in search of by bringing together these 3 musicians, among the most sought-after in the style.
A magnificent voyage into the gypsy world, between Django Reinhardt standards, French songs and magnificent compositions by maestro Angelo Debarre.

Aurore Voilqué (violin, vocals), Angelo Debarre (lead guitar), Mathieu Chatelain (rhythm guitar), Claudius Dupont (double bass).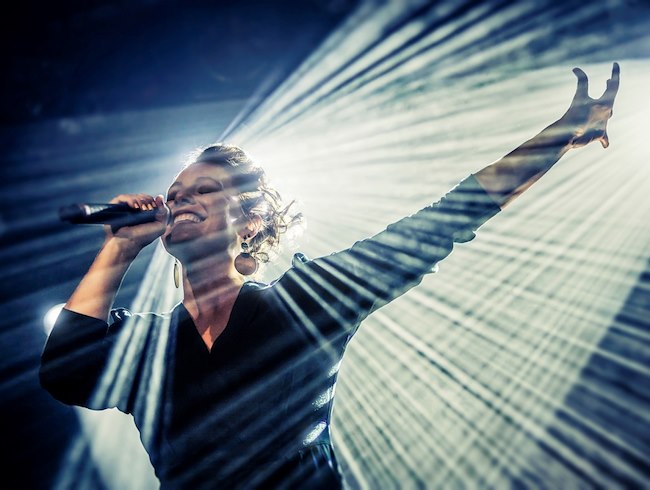 Robyn Bennett - Saturday 09 December - 8.30pm
Photography: © Lilian Ginet
Musical style: Soul / Jazz

Entrance fee: 15€
In the tradition of the great American voices, the beautiful redhead from Pennsylvania radiates contagious music, heady melodies, simple, touching poetry and an exceptional voice with a powerful, sensual timbre. During her forced hibernation due to the health crisis, Robyn moved between an Atlantic island, a Brooklyn bedroom and the Normandy countryside.
Three places from which she imagines and writes a musical triptych in which she affirms her strength to move forward whatever happens, to stay positive, to keep smiling and to share good vibrations and love. Move, released in 2021, Feel, released in 2022, and this year, Robyn Bennett returns with the third instalment, Love, due for release in autumn. Funky guitars, urban drums, vintage keyboards and brassy riffs for a hymn to action and a musical journey to the frontiers of swing and soul.

Robyn Bennett (vocals), Ben Van Hille (trombone), Jean-Hervé Michel (saxophones), Laurian Daire (keyboards), Ludovic Bruni (guitar), Stan Augris (drums).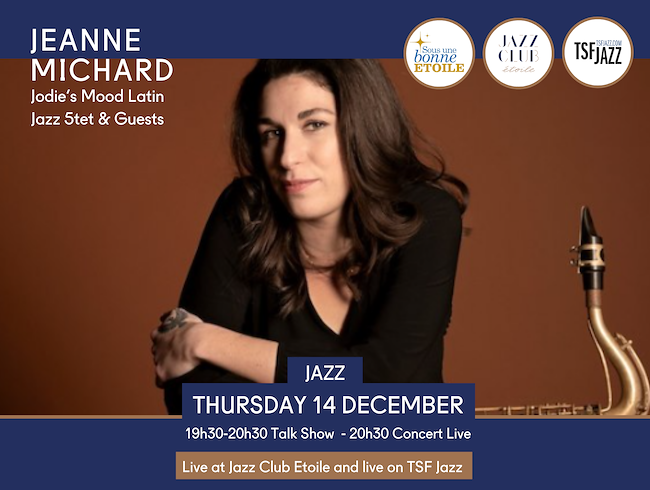 Carte Blanche Jeanne Michard - Thursday 14 December - 8.30pm
Musical style: 1st set Latin Jazz // 2nd set Jazz
Credit photo: © Florence Grimmesein
1st Set : Jeanne Michard Latin 5tet :
Following three trips to Latin America, Cuba and New York, and encounters in various projects, Jeanne Michard decided to set up her own band and devise a repertoire in keeping with her primary influences: jazz, Latin and Afro-Cuban music.
Her compositions blend traditional rhythms with the cadences and phrasing attributed to the bebop jazz of the 40s. She has teamed up with pianist Clément Simon, double bassist Maurizio Congiu and percussionists Natascha Rogers and Pedro Barrios for her first album, 'Songes transatlantiques', in which she revisits her travels through music, combining percussion with harmonies reminiscent of traditional jazz.

2nd Set : Jodie's Mood Project
A fan of jazz clubs and jam sessions, Jeanne Michard quickly came into contact with the cream of the Paris jazz scene when she started out around 7 years ago. She ended up playing regularly with musicians from the Zoot Collectif and the Paris Jazz Sessions, among others. Surrounded by all these talented musicians, it was at this point that she felt the urge to write for a medium-sized band.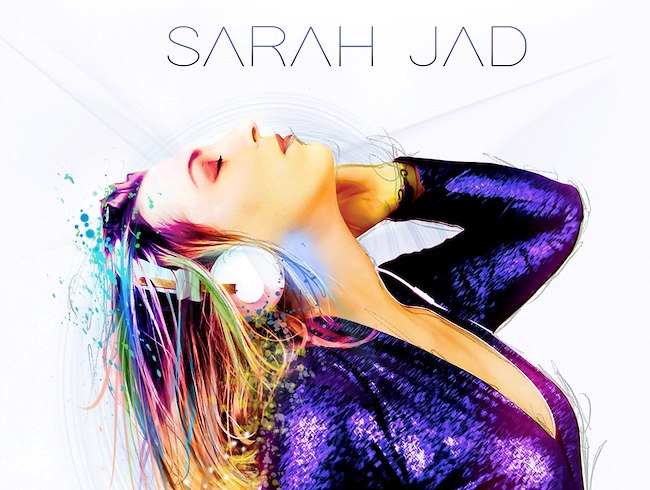 Sarah Jad - Saturday, December 16 - 8:30 pm
Musical Style : Pop Rock
Credit photo: Laurent Sigwald
A charismatic frontwoman with a powerful voice discovered on The Voice, Sarah Jad reveals her talents as a songwriter.
With a big smile, a touch of madness and the soul in her voice that characterizes her and makes her an artist out of the ordinary, she takes you on a journey into her pop-rock-influenced universe, accompanied by her team of seasoned musicians.
Thanks to her instant melodies, meticulous arrangements and universal lyrics, she'll be sharing her magical, dynamic potion with you for an explosive concert!
Sarah Jad (Lead Vocal), Xavier Guillemet (Guitar), Pascal Lajoye (Guitar), Sebastien Bonnet (Bass), David Lefebvre (Drums)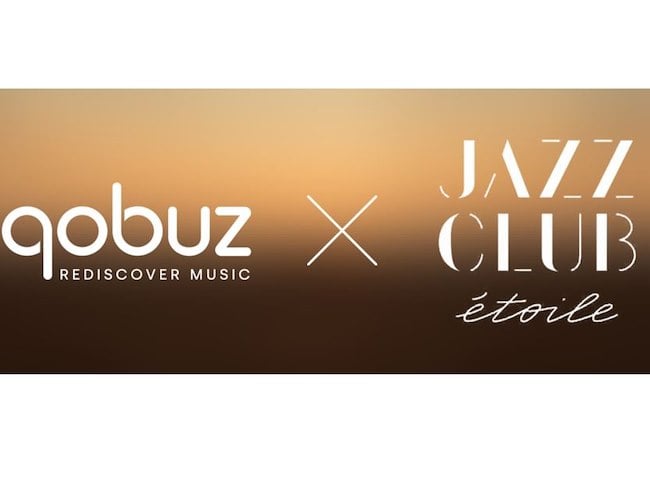 Qobuz
The Jazz Club Étoile is pleased to announce its partnership with Qobuz, the new high quality music platform.
Discover our special offer and get 1 month of free trial here.
Qobuz is a high quality music platform. Pioneer of high quality sound since 2007, the 100% French platform offers all music lovers an intimate and enriching musical experience. Qobuz provides access to an abundant content: more than 100 million tracks available in the best sound quality (Hi-Res and CD) and new editorial content written by a team of experts. Qobuz is also the only platform in the world to offer streaming and pay-per-view music in high resolution.
In collaboration with Jazz Club Etoile, try our platform for free for 30 days. (Application available on computer, smartphone or tablet).