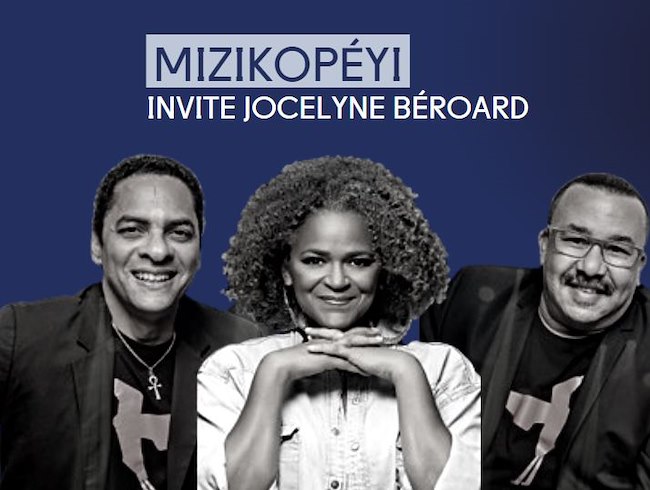 MizikOpéyi - Thursday, June 1st, 2023 - 8:30pm
Photography : ©Jeff LUJeff LUDOVICUS
Musical style : Jazz & Creole Jazz
*SOLD OUT*
Entrance fee : €18
2023 - MizikOpéyi invites Jocelyne Beroard ! For more than 10 years now, the MizikOpéyi big band has been representing a form of Martinican music on the major Caribbean and national stages. A Creole Jazz based on this particular form of the big band arrangement, for a desk of 12 brass instruments, and a repertory mixing cheerfully covers of the musical heritage of Martinique and new titles.
Created by Thierry VATON & Tony CHASSEUR, MizikOpéyi is the first big band in the West Indies to interpret music with contemporary rhythms in a big band universe, inspired by the great tradition of New Orleans. After several years of successful performances in front of packed houses in the West Indies and in France, the network of major festivals finally opened its doors to the group. 2023 is the year of MizikOpéyi's return to the concert stage. With, to support even more the opening and the modernity of the formation, proposing a collaboration with the emblematic singer Jocelyne Béroard
Tony CHASSEUR (Singer - Conductor), Thierry VATON (Piano - Musical Director), Pierre-Michel BALTHAZAR (Percussion), Régis THÉRÈSE (Bass), Arnaud DOLMEN (Drums), Christian MARTINEZ, Philippe SLOMINSKI, Frédéric DELBECQ, Patrice LERECH (Trumpet), Thomas HENNING, Marc ROGER, Adélaïde SONGEONS (Trombone), Oliver DEFAYS, Frédéric COUDERC, Xavier QUEROU, Pierre MIMRAN, Irving ACAO (Saxophone), Jocelyne BÉROARD (Vocals - Guest)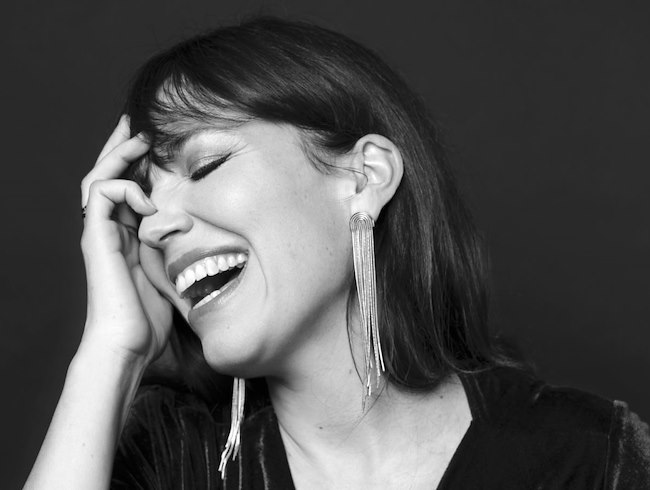 EMILY PELLO - Saturday, June 3, 2023 - 8:30pm
Photography : © Marie Hamel
Musical style : Jazz-Soul-Rock
Impressionist poet, sensual and nostalgic, EMILY PELLO presents her album Time Space Love, as well as the unreleased songs of her next EP. The bohemian child of multiple cultures, offers us a mix of influences, sounds and times, like the soundtrack of a great American movie.
We are transported by the mysterious pop compositions, the live playing of the acoustic jazz-folk instruments pulling towards the energy of the 70's Rock-Soul, the soaring 90's synths, and the soul-groove paste, borderline funky, of the tempos, the melodies and the vocal placement... There is no box to put this work, except that of the authenticity. With its eleven original and addictive songs, Time Space Love is the 4th album written, composed, produced and performed by EMILY PELLO, whose rich and convincing artistic career has nourished the independent scene for almost twenty years (Urban-Addict, A swing in the living room...). Time Space Love is a brilliant work born on the chaotic carpet of the 2020's and only asking to bloom on stage, in the hands of an artist full of sincerity and charisma.
Vincent Guibert (keyboard - piano - vocals), Indrit Mesiti (guitar - vocals), Jeremy Morice (bass - vocals), Gaëtan Demoen (drum)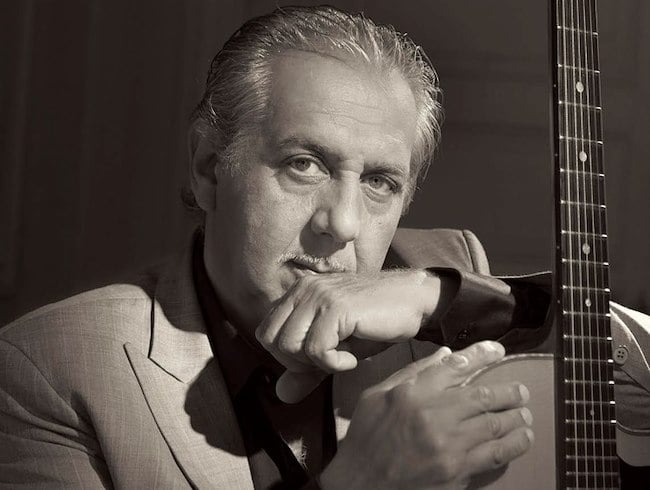 Romane Quartet - Thursday, June 8, 2023 - 8:30pm
Photography : ©Virginie Georges
Musical style : Jazz Manouche
In June, as part of the evenings sponsored by Thomas Dutronc, the Jazz Club Etoile will welcome one of the greatest composers and performers of the gypsy guitar, Romane!
With more than twenty albums to his credit, Romane is a major artist on the gypsy scene with works that have become true standards. He will be accompanied by long-time companions, including Christophe Cravero on piano and violin, which will guarantee some great exchanges between the two soloists. For the rhythm section, Jérémy Arranger will play double bass and Mathieu Chatelain rhythm guitar, two strong values of the musical style. An evening not to be missed where jazz and Romane standards will be combined for your greatest pleasure!
Romane (lead guitar), Christophe Cravero (piano and violin), Mathieu Chatelain (rhythm guitar), Jérémie Arranger (double bass)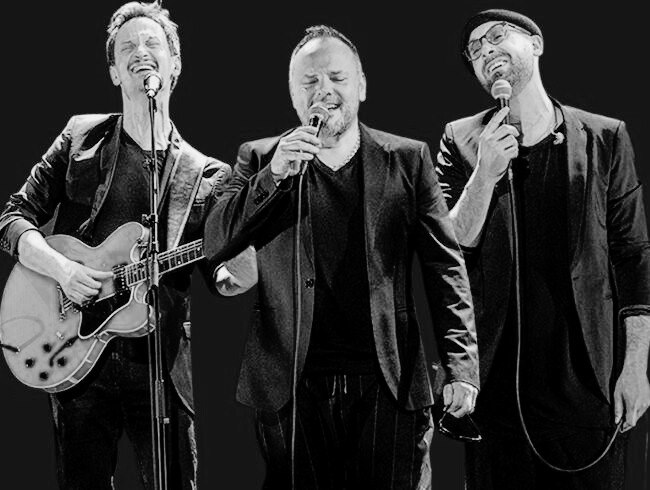 Guillaume Farley Trio - Saturday, June 10, 2023 - 8:30pm
Photography : © David Poulain
Musical style : Song/Groove/Funk
Show-man since his childhood, singer and outstanding bass player, Guillaume Farley spreads his enthusiasm and his innate sense of groove. This Funk and song agitator has multiplied collaborations with Richard Gotainer, Youssou N'dour, Juan Rozoff, Paco Sery, Amel Bent, Vianney, Sandra Nkake, Grand Corps Malade, Michel Fugain ... and many others.
After 6 years of solo touring and more than 200 concerts in France, Guillaume had to integrate drums and keyboards to form a convincing trio. And it is in the image of Guillaume that we know or not that this trio evolves on the long repertoire of the troubadour. Who has never wondered if Farley had a universe with a recognizable style at each introduction? No, Farley spreads out over a cultural range that requires several opuses to grasp its essence, and perhaps several listenings to appreciate its finesse and barbarity. Better and funkier than ever, he shares songs about impossible love stories with a lot of humor, and transforms the simple things in life into poetic and sensitive adventures. The new show "Blindé" takes us on a journey on this song-pop-funk combination, performed by pros in the middle of the evening... and we'd like to play with them!
Guillaume Farley (vocals, bass, guitar) - Romain Joutard (drum, backing vocals) - David Hadjadj (keyboard, backing vocals)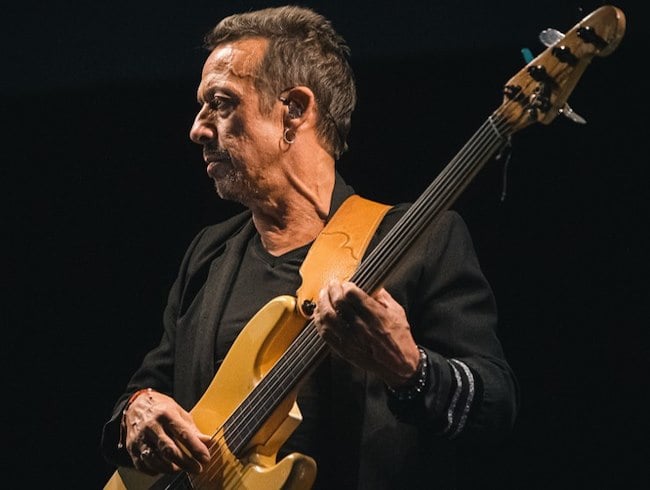 Eric Serra & RXRA Group - Thursday, June 15, 2023 - 8:30pm
Photography : © Greg Hernandez
Musical style : Jazz Rock Fusion film music
Well-known for having composed some of the most outstanding soundtracks in the history of cinema over the last 40 years (Subway, The Big Blue Bus, Leon, James Bond Goldeneye, The Fifth Element, Arthur & the Minimoys, Lucy ...), Eric Serra is not a "professional of the sector".
Instinctive musician, passionately attached to his core instrument, the electric fretless bass, it is on stage, surrounded by his friends that he always found his reason to be committed heart and soul in the collective production of a music with a direct charm, based on energy, trance, improvisation and the pure pleasure of playing. With RXRA GROUP, Eric Serra offers us music that reflects his image: generous, familial, lyrical, both sophisticated and directly accessible, constantly carried by the pure pleasure of playing.
Thierry Eliez (piano, keyboard), Paul Cépède (guitar), Pierre Marcault (percussions), Francis Arnaud (drums), Renan Richard-Kobel (saxophone), Eric Serra (bass)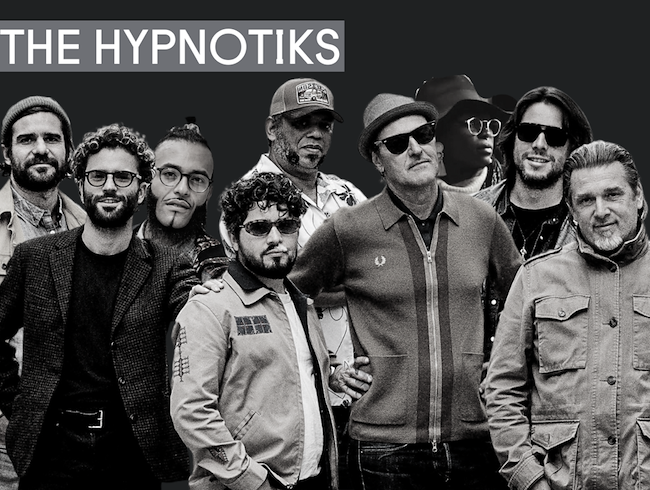 The Hypnotiks - Special Guests : Indy Eka & Gabe Zinq - Saturday, June 17, 2023 - 8:30pm
Photography : ©James Startt
Musical style : Soul/Funk
The Hypnotiks, one of the top soul/funk bands in Paris will make its debut at the Jazz Club Etoile for an evening of rare soul covers.
Inspired by the heavy soul sounds of the late 1960's and early 1970's, the band interprets many rare gems and forgotten classics with an energy all their own, offering unique blend of downtown soul and uptown funk. The band invites a variety of the best singers on stage every night and for this special evening they are proud to bring with them Indy Eka and Gabe Zinq for an unforgettable evening.
James Startt (Guitar/leader) / Gé Berruet (bass) / Xavier Desjours (percussions) / Valentin Couineau (trombone) / Paul de Rémusat (saxophone) / Eli Frot (organ/keyboard) / Seb Le Bon (drums)
Guests : Gabe Zinq (vocals) / Indy Eka (vocals)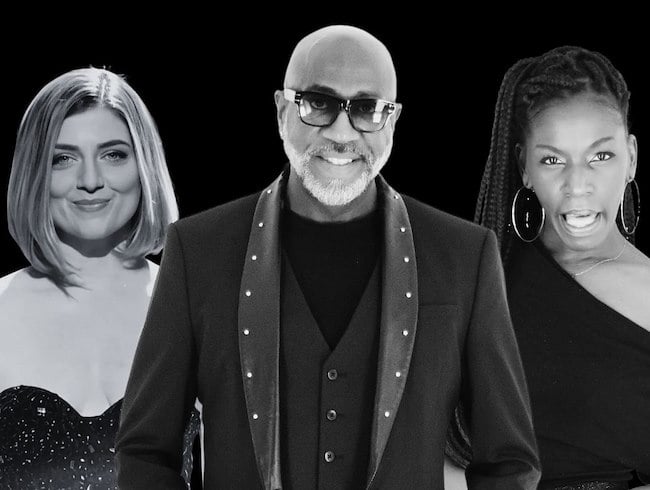 Majestik Orchestra - Thursday, June 22, 2023 - 8:30pm

Musical style : Gospel
Majestic Orchestra was created 4 years ago by former members of the Black Harmony gospel group (Jérémie Viraye, Marina Tacite and Tess Hedreville), one of the most active gospel groups since the 90s.
Through their experience, they have sought to blend a sober spiritual repertoire with rhythm and blues filled with pure energy. With their silky, powerful voices, Jeremie Viraye, Frédérique Hedreville and Sarah Gueritault will be accompanied by Parisian musicians Guy Bervin on bass, Olivier Marchevet on drums, Dany Lavital on piano and Jérôme Cornelis on guitar. A vibrant rendezvous not to be missed!
Sarah Gueritault, Tess Hedreville, Jérémie Viraye (vocals), Dany Lavital (piano), Guy Bervin (bass), Olivier Marchevet (drums), Jérôme Cornelis (guitar)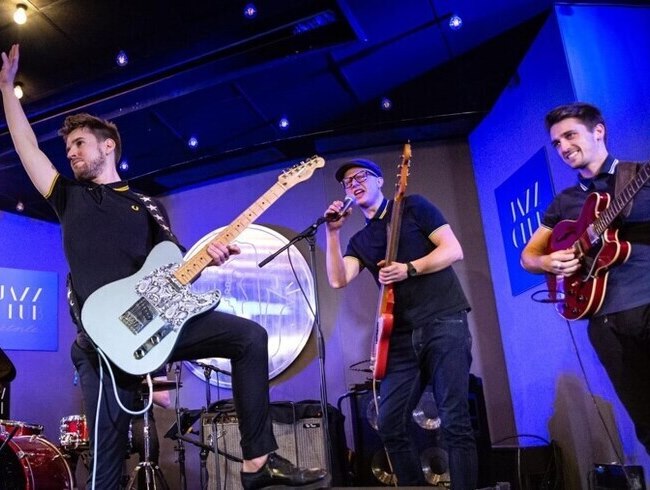 Freaky Billy - Saturday 24 juin - 20h30
Photography : © Thierry Wakx
Musical style : 50's American music
Freaky Billy takes you back to the 50s, to the era of good old Rock'n Roll and flamboyant Cadillacs! Led by a young American singer, Freaky Billy is sure to get your party going, reinterpreting standards by Elvis Presley, Little Richard, Jerry Lee Lewis and more...
They've spent the last 10 years playing French venues, winning over an ever-growing audience with a stage energy worthy of the early days of Rockabilly!
Xavier Meunier (vocal/guitar), Gaëtan Demoen (drums), Vally Sullimann (piano), Simon Strauss (guitar), Guillaume rocca (bass)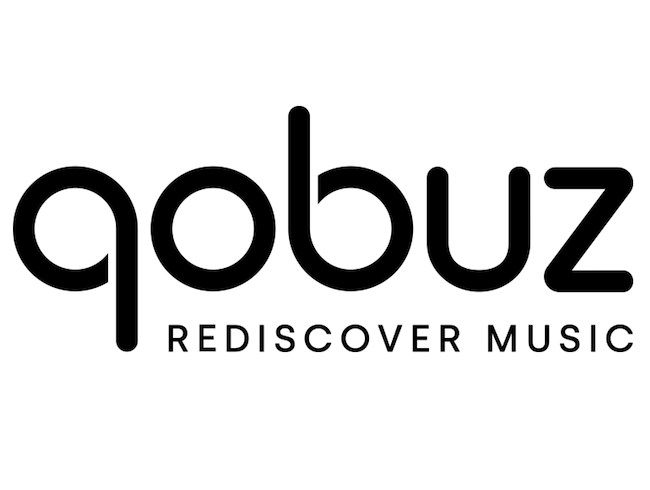 Qobuz
The Jazz Club Étoile is pleased to announce its partnership with Qobuz, the new high quality music platform.
Discover our special offer and get 1 month of free trial here.
Qobuz is a high quality music platform. Pioneer of high quality sound since 2007, the 100% French platform offers all music lovers an intimate and enriching musical experience. Qobuz provides access to an abundant content: more than 100 million tracks available in the best sound quality (Hi-Res and CD) and new editorial content written by a team of experts. Qobuz is also the only platform in the world to offer streaming and pay-per-view music in high resolution.
In collaboration with Jazz Club Etoile, try our platform for free for 30 days. (Application available on computer, smartphone or tablet).